Alice Elliott Dark's beautiful, sprawling novel Fellowship Point is about land and stewardship, about nature and conservation, but more than that, it is a book of friendship across the decades and about the complexities of women's lives, told in part by two extraordinary narrators who experienced nearly a century of life in the world.
Agnes Lee and Polly Wister, in their eighties, have known each other all their lives, having become friends as children on the coast of Maine as neighbors in the idyllic community of Fellowship Point. They couldn't be more different—Agnes is a fiercely independent, successful author who never married; Polly is the mother of three boys and an overly devoted wife to her demanding husband, Dick. As the novel opens, the two old friends meet to talk about the future of Fellowship Point.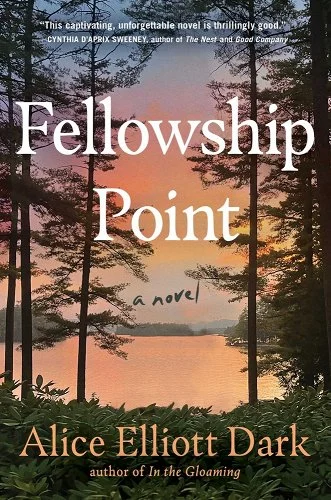 With its owners restricted by bylaws formed by its founders in the nineteenth century, Fellowship Point could be at risk of development rather than preservation, unless arrangements are made—and of particular concern is the thirty-five-acre sanctuary at the tip of the peninsula, known as "the Sank," whose bird population, including eagles, could potentially disappear. Since the 1870s, when Fellowship Point was developed—five large family "cottages," with a small cluster of houses for the staff of the homeowners—nature was the primary focus. Back then, the Lee family, "frugal and plain," let their homes go while taking painstaking care of the land: "Wallpaper peeled. Dishes chipped. Silver tarnished. But the underbrush was carefully cleaned beneath the trees in the Sank, and the beds and meadows fed and artfully trimmed to appear Edenically wild."
Agnes feels "sometimes she could draw on the beauty so whole-heartedly that she felt as though she had metabolized it, and that it had become an organ inside of her … she was determined to keep it safe for the birds, the animals, the flowers, the trees." A true environmentalist—"All living creatures were whole. End of story"—Agnes had not eaten meat since she was three years old, and Nan, the heroine of her children's books, "sprang from that sensibility."
Wanting to "make sure the Sank was protected by humans from humans," Agnes exhorts her best friend, Polly, to help preserve the sanctuary. Yet to do so means Polly must stand up to her husband as well as her oldest son, neither of whom Agnes likes. Agnes believes Polly is far too dedicated to Dick; she's most comfortable "at his beck." And Dick is all too comfortable with this arrangement, in which he is the center of Polly's life. Polly admits she's a "slightly afraid" of her son, James, who is not the child she expected him to be: "Truth be told, he wasn't all that pleasant to be with." She often sees the ghost of her "favorite child," Lydia, and she half-wishes Dick could "see the ghost, too, so they could share Lydia again." 

Yet Polly and Dick remain distant from each other, until Dick's declining health loosens his mind and tongue and allows for their first bit of true connection. Meanwhile, Agnes gets a letter from Maud Silver, a new assistant to her editor; Maud wants Agnes to write a memoir that will tell the story behind her popular When Nan books, and Agnes wants nothing to do with it. 
Maud's narrative adds another layer to the story of the women of Fellowship Point. In New York, Maud lives with her three-year-old daughter, Clemmie, and her mother, Heidi, who struggles with episodes of mania alternating with debilitating depression, which she calls "turning blue," as she had throughout Maud's childhood. Heidi's past is mysterious and unknown, even to her; childhood trauma has wiped out her memory, and though she has days that are good enough to allow her to help care for Clemmie, every day is a struggle, for both mother and daughter. It was Heidi who'd introduced a young Maud to the When Nan books, which both women read to Clemmie as well, and Maud's mission becomes getting Agnes to tell the world the truths behind her life and work.
When she gets nowhere with Agnes on the memoir via their correspondence, Maud visits Fellowship Point, where she and Agnes form a quick bond, and while Agnes doesn't change her mind, she eventually offers Maud a series of notebooks, in the form of letters to her late sister, that reveals the story of the real-life Nan, along with its joys and heartbreak.
In lovely, page-turning prose, the novel weaves together the stories of Agnes, Polly, and Maud, all charming, wise narrators whose instant friendships feel nearly magical. Yet no friendship is seamless—Maud and Agnes argue over the memoir until the end the novel, and tensions rise slowly, then explosively, between Agnes and Polly. Though Agnes usually keeps her thoughts about Dick to herself ("He was really such a small man," Agnes believes, "so inconsequential, and without the sense to know it"), Polly has long dealt with eye rolls or sardonic comments from Agnes on her husband and other topics; for example, Polly doesn't want to talk about volunteering to help animals with Agnes because she knows what Agnes would say: "If you want to help animals, don't eat them. They really appreciate that. Polly could supply Agnes's lines from afar." Eventually they fall out, and a year-long silence follows.
At nearly 600 pages long, the novel's the conservation theme disappears for quite a while—the story reveals loves and friendships, secrets and losses, the wisdom and indignities of aging—and amid these engaging human stories is the constant natural beauty of Fellowship Point. Even when the land trust isn't at the forefront, the sense of place—and what it means to those who live there—comes through vividly. 

The novel addresses, seemingly tangentially at first, the Indigenous peoples who inhabited the land long before, and it occasionally acknowledges the differences between the privileged Fellowship Point families and other residents, mostly through interactions with locals and their poorly treated dogs. Upon buying a starving, filthy puppy from an impoverished man on the side of the road, Agnes reflects: "I feel so saturated with Maine, but am so separate from its people." 
Of course, all the advantages in the world can't keep life's realities at bay, whether accidents or illness or death. And the privilege of the Fellowship Point residents is tempered by the characters' compassion, as well as their wit: When the family whose development company wants to turn the area into a resort and village crashes a party, they're observed this way: "The Looses looked like a pack of bulldogs, all three squat and wide and panting. Who had comb marks in their hair in 2003? … Their pants were belted below their large, hard bellies. One wore white socks."
The wise, warm, witty voices of the novel's characters come together beautifully toward the book's end, when the fate of Fellowship Point turns on a plot twist that feels shocking and inevitable at once. And, ultimately, the land's future takes another turn entirely, one that was meant to be, and that should have been, all along. With its beautiful writing, natural setting, and deeply drawn characters, Fellowship Point is an absorbing, unforgettable, and fully engaging read.
Midge Raymond is a co-founder of Ashland Creek Press. She is the author of the novel My Last Continent and the award-winning short story collection Forgetting English. Her suspense novel, DEVILS ISLAND, co-authored with John Yunker, is forthcoming from Oceanview Publishing in 2024.