"I thoroughly enjoyed Cassie's writing workshop. The poems she read and the prompts she offered were thought-provoking and helpful to open up to summer's sense of freedom. The meditation was a nice way to contemplate it all. I highly recommend this workshop for all writers." — Mona
Enjoy all four workshops led by Cassie Premo Steele, Ph.D., based on her book Earth Joy Writing, a writer's guide to reconnecting to the earth.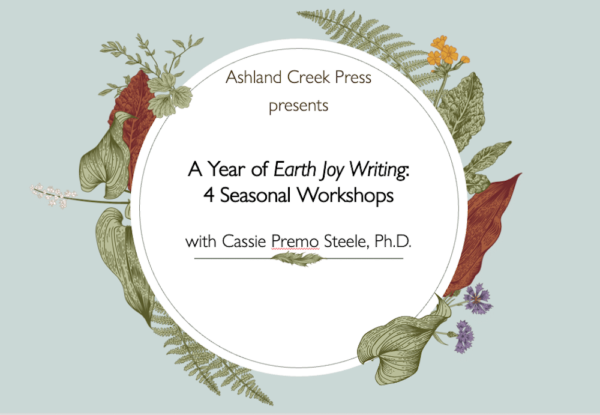 ---
These four workshops, aligned with the seasons, are designed to help you harness your creativity, connect more deeply with yourself and others, and to access the healing power of nature from wherever you are.
In Release the Dark, Receive the Light, you'll reflect on moving consciously through the dark into the light during the winter season. Through a combination of writing inspired by Earth Joy Writing, you'll write in response to guided journaling prompts and engage in mindfulness-based meditation and breathwork that will bring you toward the light as you plant your intentions for the new year.
In Sowing Your Seeds, celebrate spring with techniques designed to harness the grounding energy of spring. Through mindfulness and stress-reduction practices, writing prompts, and readings, this workshop provides a restorative and invigorating space in which you can write and thrive, wherever in the world you're based.
In The Warmth of Our Own Wisdom, you will be guided to strengthen and practice the power of intuition as a writer through mindfulness strategies and generative writing prompts. The season of summer can be filled with heat and light, and participants will learn how to harness these energies for their own creative work.
In Being Brave, Becoming Balanced, you'll have the opportunity to reflect on the wisdom inherent in the changing season of autumn. This workshop will bring bravery and balance into your life through a combination of philosophical reflection, readings of eco-poetry and eco-fiction, guided journaling prompts, trauma-informed movement, and mindfulness-based meditation.
About the Instructor
Cassie Premo Steele, Ph.D., is the author of 16 books and a lesbian, ecofeminist, mother, poet, novelist, and essayist whose writing focuses on the themes of trauma, healing, creativity, mindfulness and the environment. Her nonfiction book, Earth Joy Writing, published by Ashland Creek Publishing in Oregon, is available for sale at Congaree National Park, where she leads seasonal forest journaling workshops. Her newest book, Swimming in Gilead, is forthcoming from Yellow Arrow Publishing in October. She lives with in South Carolina with her wife. Her websites are cassiepremosteele.com and earthjoywriting.com.