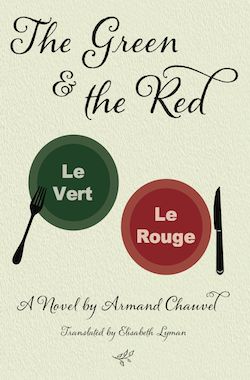 The world needs more romantic comedies and more books with vegetarian protagonists and The Green and the Red (May 2014) responds delightfully. Add this to your summer reading list for the beach, plane or train. It's a fun, quick read. As a bonus, Le Vert Le Rouge, by Armand Chauvel translated by Elizabeth Lyman, is set in the small French town of Rennes — perfect for the literary traveler.
Written in a cinematic style, it's reminiscent of the Tom Hanks and Meg Ryan movie You've Got Mail (based on the 1937 play Parfumerie) — an unlikely romance between a small business owner and the corporate executive trying to put her out of business. Nedelec Pork aims to oust Léa Rystel's struggling vegetarian restaurant La Dame Verte and replace it with a pork museum. Léa's love interest: Mathieu, the pork marketer, whose main interests are eating meat and moving up in the Nedelec family business even if it requires sleeping with and marrying the boss' daughter.
Following conventions of the romantic comedy genre, our main characters can be unlikable and confounding. You're not sure you want Léa and Mathieu to get together as events conspire to keep them orbiting in each other's spheres, colliding, but not quite consummating. There are strung out lies and misunderstandings. What's unusual and refreshing in this Bridget Jones's Diary style romance, is that the character that undergoes the biggest change and pursues the romance with the most fervor is male.
Mathieu is the one who is torn between romantic options and societal expectations and must choose between his expected path and a new inexplicable attraction. He's the one struggling with self-worth.
"The heiress of Nedelec Pork was looking for a stud to ensure her prosperity, while the woman behind La Dame Verte sought a companion with whom to share her existential concerns. Existential concerns? That was the problem. He was just as incapable of having those as he was of having deep feelings. The awareness of his own uselessness—his belonging to this gray and shapeless mass of people who would never interest Léa —squashed his morale."
Despite their faults, Léa, with wavering fortitude, and Mathieu, thoughtlessly mercenary, are made loveable through their foils. In contrast to his higher-ups at Nedelec, Mathieu seems reasonable. Lea's vegan sous chef, Pervenche, and animal activist friends moderate her own stance. Balancing between extremes allows Léa and Mathieu to meet in the middle. They are bolstered by a great supporting cast for the ensuing follies. Mathieu respects his thrill-seeking secretary Arlette and Léa loves her mini-pig Charline.
With a lighthearted touch, the novel engages in dialogues about vegetarianism and addresses the cons of meat-eating in terms of environment, health (one of the characters is a prominent gastroenterologist), and animal cruelty. As the romantic tension and farce mount, dramatic scenes takes place at a Veggie Pride celebration, a vegetarian foie gras tasting, a slaughterhouse, and the site of an environmental tragedy (the boss' daughter is attacked by killer seaweed) — and they're funny. Quite a trick!
The book also takes on the criticisms and stereotypes leveled against vegetarianism — and these are also become laughable. Mathieu must confront parental disapproval to make his match. When he tells his parents about vegetarianism and the vegetarians he's met, they mock the "salad-eaters" and "followers of a Bugs Bunny diet," and resist the notion that their son could take the ideas and people seriously.
"Oh, come now! Don't confuse love with what people eat. He can well have a vegetarian friend without having joined their cult," his mother says. At this point, however, the reader is beginning to get the idea that vegetarian is love.
The tension escalates and the fun continues through the epilogue. The book says a lot about the ethics of pigs versus pork, but leaves the reader smiling.
There are some excellent documentaries that highlight the difference between the vegetarian and carnivore perspective (i.e. The Ghosts in Our Machine, beautiful and tragic, and Speciesism: The Movie, logical and convincing), but where are the romantic comedies? Satire is a powerful persuader and we are inclined to like what makes us laugh.
So, it's tempting to imagine The Green and the Red on the big screen with a cast of vegetarian and vegan actors (Anna Paquin as Léa? Woody Harrelson as Mathieu?), with lots of cameos by famous vegans (Gene Baur, Caldwell Esselsytn, Paul Shapiro and Ingrid Newkirk), and a fabulous soundtrack featuring vegan musicians. This summer read would also make a great summer movie.
Published by Ashland Creek Press, press behind this review site: But I loved the hook, "She's a vegetarian. He's a carnivore. Will it be a table for one?" and had to read this book!
A reader, writer, and @Utopianista living by the Salish Sea, Shel served in the Peace Corps and earned her MFA in Creative Writing.