Oliver A. Houck's Taking Back Eden is one of those books that can offer great hope during tough environmental times. Published by Island Press in 2011, this book's relevance is only going to grow as we face more environmental obstacles and challenges.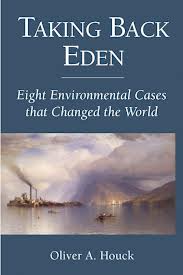 Taking Back Eden, which presents environmental lawsuits brought in eight countries, offers an inspiring look at those who use the legal system to protect and preserve the planet. The book is also rich in the history of the environmental movement; Houck notes that the first Earth Day, in April of 1970 in the U.S., caught everyone by surprise: "As if by magic, a half a million people appeared on the Mall in Washington, D.C. … the FBI, certain that the demonstration was inspired by communists, went around the Mall taking names … Then another unusual thing happened. Instead of calling out more troops, the country came up with a different answer. It allowed the very people who were protesting to take their government to court." The idea, as Houck says, was revolutionary, and it changed the environmental movement forever.
The appeal of Taking Back Eden is not limited to lawyers; chapter by chapter, each case study in this book reads like a legal drama. Most of the cases, like all good dramas, have their heroes—among them are Antonio Oposa, a Philippine lawyer who tackled illegal logging, and Vera Mischenko, a young lawyer with a doctorate in science who formed the first postglasnost environmental organization in Russia. And not only does Houck make each case accessible to non-lawyers, he has a gift for storytelling; he offers interesting and relevant backstory on the main players, as well as the context and history in each case. The Nikko Taro case, for example, spans from a sixteenth-century shogun to post-war development in Japan; the Trillium case begins with Magellan's first visit to Tierro del Fuego and leaps to the early 1990s, when a Seattle developer targeted the region for logging. And, from Native Americans protecting their rivers in northeast Canada to Indians preserving the Taj Majal, Houck shows us just how closely everything is connected and how vital the legal system is to defending the planet.
Protecting rivers from industry and trees from loggers are among the more familiar environmental issues; others are less so—such as the Taj Mahal case, brought about due to the great monument's impending death from "marble cancer." In this case, a young lawyer named Mahesh Chander Mehta argued that the air pollution (which destroys more building stone than any other weathering process) of the Taj Mahal's home city was literally eating away at the marble; not only that, New Delhi and small towns upstream were dumping hundreds of millions of tons of raw sewage into the Yamuna River, which flowed down to the Taj.
Each of these eight cases are steeped in religious and political history, in mythology and native traditions, and each reveals how new legal precedents or environmental standards came to light thanks to those who had the knowledge, intelligence, passion—and sometimes temerity—to take on the powers that be for the sake of the planet. As Houck points out, the system is ever-evolving, and few cases are completely settled forever. Yet this is an important book not only for learning the global history of those who first stood up for our planet in court but for teaching and inspiring those who will most certainly need to do so in the future.
Midge Raymond is a co-founder of Ashland Creek Press. She is the author of the novel My Last Continent and the award-winning short story collection Forgetting English. Her suspense novel, DEVILS ISLAND, co-authored with John Yunker, is forthcoming from Oceanview Publishing in 2024.