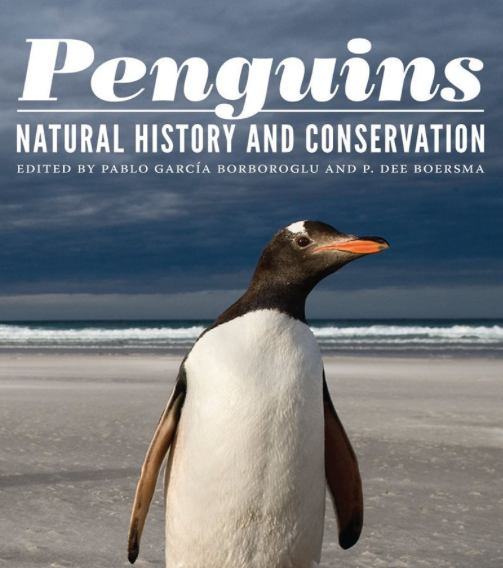 Let me preface this review by saying that I am a longtime fan of co-author Dee Boersma's work.
Years ago, I was part of a volunteer project at Punta Tombo, assisting Dee and her team with a penguin census. It was a week that changed the direction of my life in ways I couldn't possibly imagine at the time. Dee has spent more than 20 years at Punta Tumbo researching Magellanic penguins — and helped to found the Penguin Sentinels organization.
So now that you know of my affinity for penguins and those who work to protect them, on with the review.
This is a reference book at its core.
It provides an in-depth description (and plenty of photos) of each of the 17 penguin species — from Gentoos to Rockhoppers to the Emperor penguins that were made famous in March of the Penguins. You'll learn how to identify each, as well as its breeding habits, range, prey, and predators. (Did you know the Emperor penguin can dive up to 500 meters and hold its breath for 23 minutes?)
Yet even though this book is chock full of penguin details, such as counts and feeding habits and population trends, there is plenty drama between the lines.
For example, in the African Penguin section there are two photos of the Halifax Island colony in Namibia. In the photo taken in the 1930s, the colony is filled with penguins. In the 2004 photo, only a handful of penguins can be seen. The African Penguins are in big trouble, due to oil spills and overfishing.
I didn't realize until reading this book the extent to which penguin eggs were once collected by locals. And penguin guano was also a target (which some species very much need for their nests).
Not all penguin species are declining. The Gentoos appear to be growing in number (though it appears that most species are indeed in various stages of decline).
Ultimately, this book is a call to action. For example, if the human demand for seafood ended tomorrow, the fishing trawlers would have a reason to be out in the oceans, scooping up the penguins' food supply (as well as the penguins themselves).
Climate change is a more insidious challenge simply because it's not so easily combatted or its impact fully understood. All we do know is that the waters are warming and food sources are moving or declining. And penguins must adapt to these changes or fade away.
Some species, sadly, are fading away.
If you're passionate about penguins and the oceans, this is a must-have book. You'll find yourself referring to it again and again, as I have.
Penguins: Natural History and Conservation
Pablo Garcia Borboroglu (Editor), P. Dee Boersma (Editor)