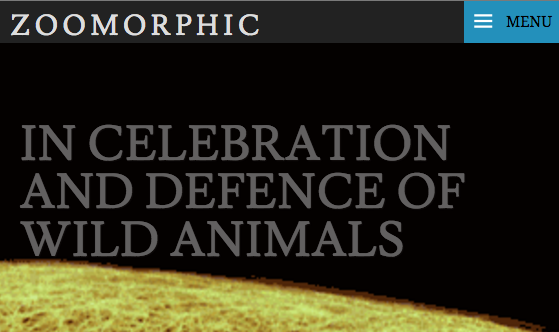 We first introduced Zoomorphic a year ago with this Q&A.
Zoomorphic is now accepting submissions for their next two issues. Here is the call:
Zoomorphic magazine was founded a year ago and is now an established eco-literature publication. We have featured work by many award-winning and respected international writers in our first 5 issues.

We are now seeking submissions of fiction, journalism and creative non-fiction for our summer and autumn issues. We are happy to receive material from published and unpublished writers, and will give editorial feedback to new writers with strong ideas. Work concerning oceanic wildlife is particularly encouraged.

Essays and fiction should be between 500 and 3000 words.

Submissions guidelines can be found here: zoomorphic.net/submissions.

Or contact James Roberts (editor@zoomorphic.net) to discuss your ideas.