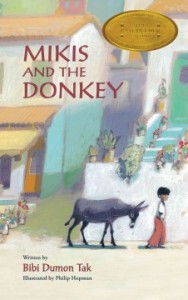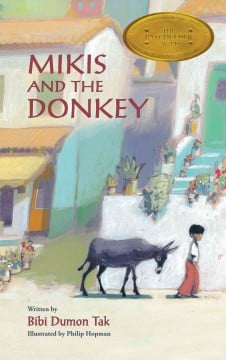 "Mikis stroked the donkey's ears. It was six feet from the bottom of the ears to their very tip…and then six feet all the way back down again. Well, that's what it felt like. The donkey's ears were so long that there seemed to be no end to them!"
There's a surprise in Grandpa's stable. It's a donkey with soft fur, a pale nose, and two very long ears. Mikis feels an immediate connection with the animal. He names her Tsaki and becomes the animal's friend and advocate. While Grandpa considers the donkey to be "a tractor on legs"—he bought her to help haul firewood down the mountain—Mikis understands that the animal needs love, care, and proper treatment. After Tsaki gets injured, Mikis gives Grandpa "donkey lessons," and the older man begins to treat her better.
Set on the quiet Greek island of Corfu, the plot hinges on Mikis trying to provide a better life for the donkey—reasonable loads to carry, companionship, and an airier stable. At the book's heart is the importance of learning to care about others. Although the quiet nature of the story may not engage some children, the many black and white line illustrations should be enticing for early chapter book readers.
Originally published in Dutch, Mikis and the Donkey was recently awarded the 2015 Mildred L. Batchelder award for best children's book translated from a foreign language. In a short afterward, the author describes her visit to the donkey sanctuary on Corfu, where she sets this story. She says, "Tsaki was one of the first donkeys at the donkey sanctuary on Corfu. And that's why the donkey in this book is called Tsaki, as a very small tribute to every working donkey, all over the world."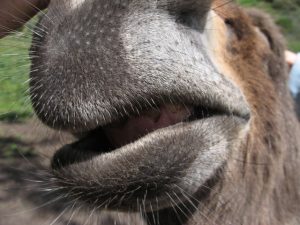 Anna Monders is the booktalk specialist for Jackson County Library Services. She visits 200 elementary and middle schools classes a year, getting kids excited about reading.