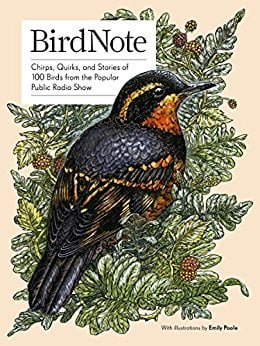 Here in Ashland, Oregon, I listen to our local radio station KSKQ. And for the past several years I've enjoyed the weekly, two-minute BirdNote programs.
So I was excited to find that there is now a BirdNote book. What the book lacks in audio, it makes up for in very high print production values; it is beautifully designed, with full-color illustrations and a handy bookmark tassel.
This will make an excellent gift for the would-be birder in your family. And even veteran birders will enjoy it. While I'd like to think I've learned a fair amount about birds over the years spent gazing upwards, I still learned plenty, such as:
The Northern Flicker and Pileated Woodpecker rely heavily on ants that bore through the trees. A Norther Flicker was known to consume 5,000 ants in one sitting (or perching).
The Green Heron may use a "bait" of twigs, feathers or insects to attract fish within reach of their bills.
A barn swallow eats up to 850 insects a day — making this a wonderful bird to have around not just a barn, but any yard.
There is a crow roost in Illinois that is home to 100,000 crows. I would love to hear that.
The cardinal (who I sorely miss out here in the Oregon) was named after the red hats and robes of the Roman cardinals.
And speaking of red, cars this color are most often targeted by birds doing their business, according to a study. Green cars are least likely to be targeted.
And the much-maligned starling gets some deserved love. I find their symphony of sounds to be truly remarkable. And I was not alone; turns out Mozart had a pet starling that he wrote a poem about after it passed on.
My only complaint is that it would have been nice to see longer, more informative notes. A number of notes come in at just a few paragraphs.
Also, while some chapters do explain why certain species are threatened, such as the California Condor, I would have liked to see more of this, such as regarding the many species of albatross now under threat.
Quibbles aside, I recommend this book to anyone who loves birds (or anyone you think should love birds).
PS: All BirdNotes can be listened to online here
BirdNote: Chirps, Quirks, and Stories of 100 Birds from the Popular Public Radio Show
Publisher: Sasquatch Books