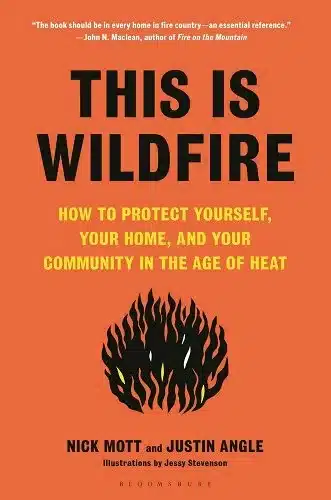 It's fire season here in southern Oregon.
Which is another way of way of saying it's just another season here in southern Oregon.
Over the past decade fires have become a year-round occurrence — if not wildfires then prescribed burns. Smoke is an ever-present reminder of the dangers of wildfire. As are the empty lots and dead trees just north of here in Talent and Phoenix, communities badly burned by the Almeda Wildfire in 2020.
In This Is Wildfire: How to Protect Yourself, Your Home, and Your Community in the Age of Heat, authors Nick Mott and Justin Angle have created a book that is as much an explanation of how we got to this point in history as well as hands-on guide to living a more fire-wise life.
So how did we get to this point in history? Well, as the authors point out, we made fire our enemy instead of our ally. Indigenous peoples were astute landscape architects, using fire to clear the land for new growth, creating more fertile soil and preventing invasive species from taking over. But the Forest Service decided in the 1930s that there was no such thing as a "good" fire and we are only now coming to terms with forests that burn far hotter and wilder because they never benefitted from nature's periodic, lightning-driven fires.
The authors call out my home town of Ashland, which has for a number of years conducted controlled burns in the hills above town. And while I'd rather not smell smoke in the months of January through April, scientific studies have shown that these burns not only help make native trees more resilient but keep the undergrowth from turning what would be a run-of-the-mill fire into an conflagration.
Here is a look at one such controlled burn in the Ashland watershed:
The book is divided into four sections: Burning, Fighting, Managing and Adapting. In each section we learn how humans and forests have evolved, from a more symbiotic relationship, using fire to create healthy forests, to the warlike mentality we still have today — treating every fire as an enemy to be struck down with immediate effect.
The last section will be valuable to any homeowner in a fire-prone region (and, honestly, what region is not fire-prone these days?). What many readers don't understand is that it's not the flames from a fire that typically destroy homes but the embers driven by high winds that can ignite a home. Keeping your gutters clear of pine needles, keeping vegetation at least five feet away, making sure the attic vents are screened so embers cannot slip through — all of these relatively small actions can make a big difference.
As we've seen recently, nobody can fully escape fire — as smoke respects no borders, blanketing much of the US with Canadian ashes. But that doesn't mean we can't adapt to it and, working together and with our forests, become more resilient.
This book is a smart and timely resource — be sure to include it your Go Bag.