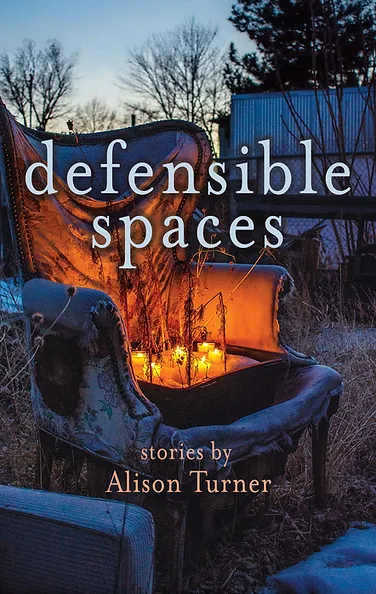 DEFENSIBLE SPACES, stories by Alison Turner
Torrey House Press
February 2023
Fire! It's everywhere in Alison Turner's tightly knit collection of stories, from fireworks to a flaming ham, "a pink plastic hunk the size of a baby." Everyone in the small post-mining community of Clayton, Colorado, elevation 8,236 feet, seems to have a lit cigarette in their hands as they watch their mining past disappear. Their history is literally burned to the ground when their mining museum goes up in flames. These linked stories wander about between 1987 to 2015, and over the decades we watch the residents grow up, or not. As one character says in the story "Fuel Density," "When he got home, he felt foolish for his life in Clayton."
Like "Fuel Density," every story is is titled after a fire mitigation term, meaning, how to live with the constant threat of wildfire, a device that lends itself to rich interpretations. To create a defensible space – the term that the title story is based on – means to clear a 120 foot radius around a dwelling. No one does this. No one ever seems to do what's necessary for survival. Jackie, the fire outreach officer for the town in "Mitigation" finds nothing but resistance to her efforts to promote prescribed burns to remove combustible debris. Set fires? Let natural fires burn? Insanity. The residents could help themselves when it comes to fire danger, but don't, in the same way they could help themselves out of their sad situations, but won't. In this town, good intentions are sometimes just as bad. Jackie is told the high fuel load of underbrush is due to the fact that a decade ago, "some sweet but misinformed teacher brought a group of kids out to Red Bird Forest to plant new trees." Which just goes to show that when it comes to our relationship with the environment, we're all just playing with fire.
The Red Bird Forest is named after the Red Bird mine, the reason Clayton exists, a history they continue to celebrate on Miners Day, which involves something called a hand-mucking competition. I'm guessing the mine was a silver mine, since Clayton is on the same bus route as Silver Hill, but not sure. The characters leave a lot unsaid. They live in the extraordinary beauty of the Rocky Mountains, but they seem barely aware of their surroundings and often reside in personal squalor. They only seem to notice the mountains when the hills block the light before sunset. In the same way, the icy weather is mentioned only in passing. From "Fanning Effect": "She and Danny are both good in the cold. They now how to sit still, that if you don't fight it, it won't fight you." The protagonist, Karly, who we had such hopes for in earlier stories when she was a young girl, says this while pretending to smoke a cigarette, her way of coping each time she quits. At least she's trying.
Mountain towns can often feel claustrophobic and characters keep bumping into those they most hope to avoid. A clueless bus driver in the title story "Defensible Places," is sent back to his old route with dread, and sure enough, his old girlfriend steps right on up. "The air in the bus feels heavy," he thinks, "the way it does when two people have a lot to think about but nothing to say." Turner vividly evokes a community where regrets smolder for a long time and anger spontaneously ignites, where the locals will do almost anything rather than prevent trouble in the first place.
JoeAnn Hart is the author of the novel Float, which swirls around conceptual art, bankruptcy, and plastics in the ocean. Her most recent book is Stamford '76, A True Story of Murder, Corruption, Race, and Feminism in the 1970s. Her collection of short fiction, Highwire Act & Other Tales of Survival, is forthcoming from Black Lawrence Press in 2023.