Notes on Wonder
By Brian Doyle
Little, Brown and Co, 2019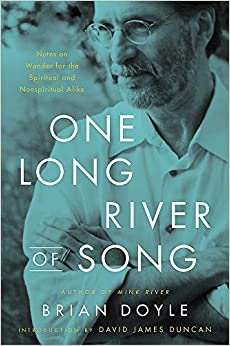 During that small window of time this year when it seemed safe enough to travel abroad, this book was given to me by a friend to take along on a cruise down the Danube River. Get it? One Long River of Song. But the book was perfect in far more ways than the title. Reading this stunning collection of essays while floating along the river, watching the landscape move slowly past, I felt as if Brian Doyle was along for the ride. Because that's what he did best. He observed the ever-changing world with total attention and wonder.
I didn't recognize his name when the book arrived because I am very bad with names and titles, but as soon as I started reading it I realized we were old friends. I had already read a number of the essays over the years in both The Sun and Orion, my two favorite magazines. When he died a few years ago, both those editors both wrote a eulogy for him, praising his literary skill and his deep spirituality, which was most alive when in the presence of nature's mystery, which to Doyle, was all of it.
Most of these essays are quite short, a few pages here and there, some more like poems than essays, far too many for me to do much more than suggest what they are all about. But no matter the subject at hand, whether it be eating dirt or contemplating his approaching mortality, he explores his inner life and holds it up against the backdrop of the outer world. One of his longer pieces is "The Creature Beyond the Mountains," an essay about wonder itself, which was his life's work. In this case the wonder is Herman, a sturgeon kept at the Sturgeon Viewing and Interpretive Center at the Bonneville Fish Hatchery in Cascade Locks, Oregon. Around ninety years old, ten feet long and five hundred pounds, he is the state's most famous sturgeon in a crowded field. Doyle spends many an afternoon sitting with Herman and observing the humans who come to view him. He likes to see the wonder on their faces as they come into contact with this magnificent and ancient creature, who really ought not to be penned up for our enjoyment. "Maybe wonder is the way for us with animals in the years to come," he writes, and it is a sobering thought.
He sits in wonder with all living things, but he is particularly fond of hawks and other raptors. In his essay "Raptorous" he writes about how they are more adamant than other birds. What a word for a bird. You'd have to have dedicated much of your life to closely observing winged animals in order to determine that one species above all others is "adamant." He explains, "I suppose what I am talking about here is awe and reverence."
Indeed. In his own small window of time, he continued to think deeply and write beautifully about all creatures, from the timid to the adamant. He took it all in, then put it into words. As he writes in another essay "Birds are languages looking for speakers." He was their speaker. He explained them even as he explained us to ourselves, insisting to the end that, like them, we are very much a part of nature, not just passive observers on life's river.
JoeAnn Hart is the author of the novel Float, which swirls around conceptual art, bankruptcy, and plastics in the ocean. Her most recent book is Stamford '76, A True Story of Murder, Corruption, Race, and Feminism in the 1970s. Her collection of short fiction, Highwire Act & Other Tales of Survival, is forthcoming from Black Lawrence Press in 2023.