The Druid Wolf Pack of Yellowstone National Park has garnered international notoriety over the last 20 years. Established in the mid-1990s, the Druid Wolf Pack was at one point the largest recorded wolf pack in the world. And, luckily, park ranger and wolf expert Rick McIntyre has been present to record every excruciating detail of the Pack's evolution. The Reign of Wolf 21: The Saga of Yellowstone's Legendary Druid Pack is the second book in McIntyre's Alpha Wolves of Yellowstone series. McIntyre's first book in the series, The Rise of Wolf 8: Witnessing the Triumph of Yellowstone's Underdog, explores the introduction of wolves to Yellowstone and the alpha career of "Wolf 8." The Reign of Wolf 21 continues this same timeline with a new protagonist, the benevolent leader named "Wolf 21."
McIntyre's The Reign of Wolf 21 reads like a thriller. The book opens with the murder of a jealous alpha female named "Wolf 41," an event that sets into motion the rise and reign of alpha male Wolf 21 and his decade long relationship with Wolf 42, the beta sister of Wolf 41. Themes of murder, love, and betrayal make the book more comparable to a John Grisham novel than a piece of science writing. That is not to say that McIntyre's work lacks scientific research. McIntyre has recorded more wolf sightings than any other person in history. And, like any skilled nature writer, he is able to carefully weave the details of these sightings into a story that is accessible to all readers, whether they be wolf enthusiasts or not.
What readers will gather from this book is the very human nature of wolves. Every wolf in The Reign of Wolf 21 has a different personality, motivation, and desire. The experiences of wolves and wolf packs are often reflected in human interactions. And, ultimately, McIntyre's purpose for writing these books seems to be both to teach readers about the natural lives of wolves and to humanize these creatures, removing the false mystique that has made wolves ripe for villainization. Spreading understanding of the wolf is a fundamental component of preservation and, in this way, McIntyre's Alpha Wolves of Yellowstone series is essential reading. The Reign of Wolf 21 is an intelligent, exhilarating, and often tragic book. Wolf 21's life story is absolutely a journey worth taking.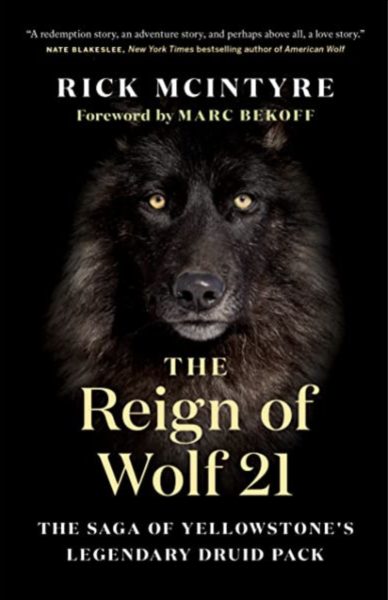 Olivia Radbill is an LA-based public librarian and archivist. She is a practicing vegan and animal rights advocate.