Imagine that you're an nth-generation farmer and you've been raised to continue business as usual in animal agriculture. But you can't help but notice that the world is changing around you. People are eating less meat, consuming less dairy. Animals activists (such as myself) are saying cows and sheep and pigs and chickens deserve peaceful and long lives.
What are you supposed to do?
It's easy for someone like me to say Start over. Easy for anyone without a family to support, without loans to pay, without any training in how to move beyond animal agriculture.
Which is why I'm excited to see the Rancher Advocacy Program Summit, which is open to all, happening a week from today (February 6th).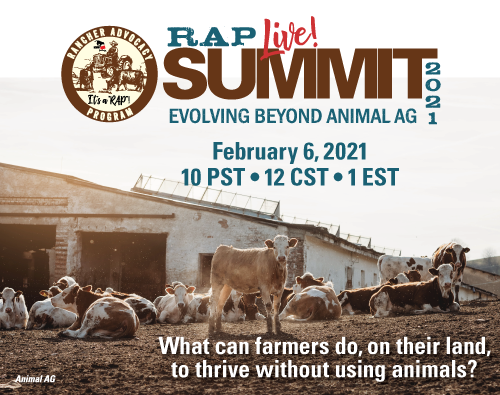 It's one thing for those of us out on the outside to say things need to change. It's another thing for ranchers who have already evolved beyond animals to show how it's done. That's what makes this program critical to changing the world for animals and combating climate change.
The event is hosted by Jane Velez-Mitchell of Jane Unchained and Renee King-Sonnen, Founder of the Rancher Advocacy Program & Rowdy Girl Sanctuary. And there is an amazing group of speakers.
Click here to learn more and register.