Reviewed by Lucia Hadella in partnership with Oregon State University's Spring Creek Project and Environmental Arts and Humanities program.
How does one go about telling the story of hydraulic fracturing in the United States in a way that illuminates its repercussions for humans and nonhumans? Through poetry? A short story? An essay? Does one travel to a town where fracking is prevalent and talk with its residents, see the operations, walk across the scarred ground? Editors Stefanie Brook Trout and Taylor Brorby made the decision, when putting together Fracture, to include all of these approaches in an effort to capture the qualms and indignations surrounding fracking.
The story of fracking is globally relevant, contributing to the larger saga of climate change and energy production, but it is also local, personal, and intimate. In her poem "Small Buried Things," poet and singer-songwriter Debra Marquart writes to fracking states, such as North Dakota, with a warning and a plea. Highlighting the sacrifice of life-sustaining water and air for the quick returns from fossil fuel development, she writes, "more oil than we have water to extract / more oil than we have atmosphere to burn." Addressing her home state, she urges, "north dakota   dear sleeping beauty   please, wake up / they have opened you up and said, come in   take everything."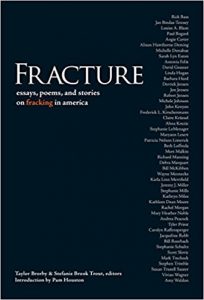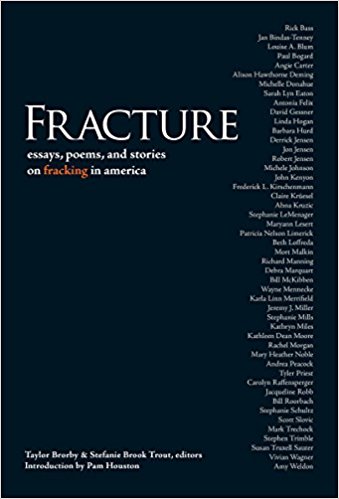 I first learned about fracking during my senior year of high school, and I can still remember those infographics depicting the cracks that spread through the shale layer, sometimes more than a mile below the Earth's surface, branching like a system of roots where trees will never reach. I remember the video of a woman in Pennsylvania turning the knob to her kitchen sink, lighting a match, and flinching as the water ignited with a flash. She talked about methane levels, about getting dizzy in the shower, about the money the gas companies gave her to lease her land for drilling. As an Oregonian who had not witnessed fracking firsthand, my schooling on the subject was important but incomplete.
Indeed, one can only learn so much about fracking by watching videos and studying diagrams. A collection like Fracture helps to humanize the on-site damage done by fracking and offer a more complete look at the political and economic forces at play. In order to gain insight for his Fracture contribution "The Occupation," writer and professor Paul Bogard traveled to southeastern Ohio to better understand how communities there are affected by natural gas extraction. "What I saw in Ohio," he writes, "is a land under occupation." Between the "ubiquitous tankers labeled 'brine'" and the "constant industrial noise, like a factory's churn and whine," Bogard quickly determines that the real-life fracking scene is far different from that described by the oil company Halliburton.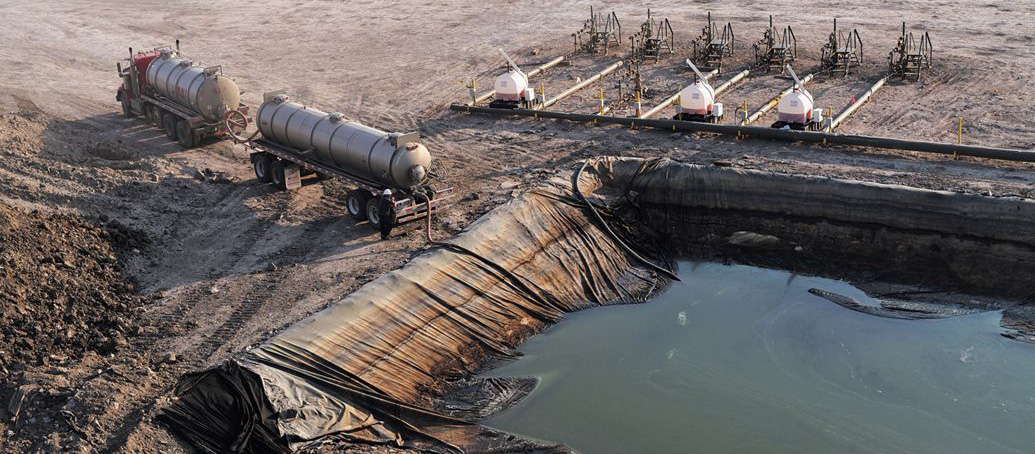 On their website Halliburton depicts fracking operations as quick, quiet, and safe. Advertising to communities made vulnerable by poverty and limited access to education, the company downplays the environmental disruption and chemical contamination while emphasizing opportunities for job growth and "easy money." Bogard learns from his hosts, Appalachia locals, that the oil and gas companies first try to coax landowners into signing leases, and then they revert to divisive tactics if that doesn't work, "turning neighbor against neighbor."
Like so many other contributors, Bogard's narrative style entices Fracture readers, and I found myself roped in by the human intrigue of his journalistic approach—and then I remembered that these disturbing stories are real. The threatening industry representatives, the landowners who are duped and coerced, and the ground that "has the look of a recent battle, torn up and scraped bare, all yet to heal" comprise the reality right now in many towns across the nation. It seems appropriate that some authors in Fracture chose fiction as their avenue for exploring a practice whose implications for the future are both significant and unknown. The subject is heavy, and it tugs at the imagination, demanding an explanation and a way to look forward for what actions must be taken.
This heaviness is the reason why Fracture, which reads smoothly from page-to-page, author-to-author, and genre-to-genre, is also demanding. It requires from its readers a degree of empathy and self-reflection, all the while provoking frustration with a larger system that allows and perpetuates suffering at the hands of power. In her essay "The View from 31,000 Feet: A Philosopher Looks at Fracking," nature writer and philosopher Kathleen Dean Moore stares down at an eastern Utah landscape speckled with fracking wells. From her seat in the airplane she wonders, "By what right do humans take what they want from the land—not just what they need, but whatever they want—with no regard for the living, animate community that already exists in that place?"
Indeed, some Fracture contributors, such as Moore, take their discussions beyond fracking, seeing the practice as one component of a broader system of resource exploitation in the name of growth, convenience, and progress. In his essay "Insanity," activist and philosopher Derrick Jensen examines fracking as one part of a dominant culture obsessed with growth at any cost. He reminds readers that "[f]racking is not one lone mistake. It's not one lone act of greed. It's part of a larger pattern. It's one symptom of the disease—the insanity—that is this culture." He urges readers to fight fracking with this larger picture in mind and to understand that what is needed in taking action against fracking is a systemic shift and not one that views the extractive practice in isolation.
And indeed, Fracture is a call to action. In fact, it comes complete with several guides on how to take charge against fracking. In "A Feminist's Guide to Fighting Pipelines," activist-publisher Ahna Kruzic and sociologist Angie Carter share sage advice on getting started, building community, moving forward, caring for oneself, and adhering to radical imagination. I will leave you with their words as a gesture of resistance: "Trust that through the undoing, the dismantling, the collapse, we will learn to remake and will remember to question, to honor, to debate and disagree and come together again."
Lucia Hadella grew up in Talent, Oregon. She received her B.S. in Natural Resources from Oregon State University, where she is currently earning an M.A. in Environmental Arts and Humanities.
Fracture: Essays, Poems, and Stories on Fracking in America
Ice Cube Press
Read and share your own thoughts on the Center for Humans and Nature's Questions for a Resilient Future Series: Does fracking violate human rights?