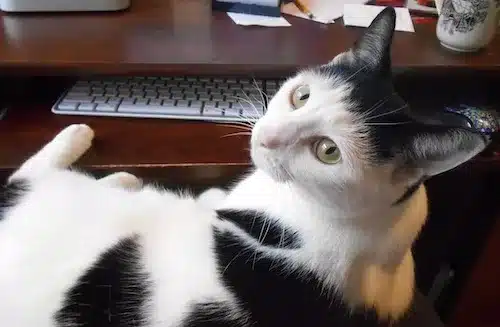 One of the inspirations for EcoLit Books was to create a place where writers could find inspiration — and writing opportunities. I was happy to hear that author Kath Donnelly discovered Gaia Lit through EcoLit Books and, as a result, her short story Two Degrees found a home.
Tell us about your short story and what inspired it.
I was working on pulling up the grass in my front yard. It's a hard job, but the soil lets go of the roots more easily when it's wet. At one point – sore and tired – I wondered just how much rain it would take for the grass to lift right out. The story came from that "be careful what you wish for" moment, because if climate change goes unchecked, extreme wet weather is the particular devastation my region will face. The story pulls together a lot of what I've been thinking and reading about for decades. Back in the 1990s, I saw a made-for-TV moved called "The Fire Next Time," which is still a good depiction of catastrophic weather and climate migration. In it, part of the country is thriving, with temperate weather, arable land, access to fresh water, and the climate refugees are trying to get there. I believe that, ironically, many of the Rust Belt cities will become those havens.
Here in Pittsburgh, it's been pretty calm compared to elsewhere. Of course, I'm whispering this as I type. But those golden days won't last – again, if climate change continues at its current pace – and this story looks at when the destruction finally hits here. It's told through the experience of a young woman who's already lost one home and is now facing losing another. I wanted to tell a quiet, personal story, without parody or sarcasm, in the hopes that the relationship built between these characters and the reader might change a few minds. I know that's a big ambition, but that's what I've hoped for from this story. And I imagine that's what we're all hoping for when we write about the environment, in any genre.
What websites/journals/mags do you regularly read to keep up on environmental arts and news?
I get a lot of my news from NPR, especially Science Friday and a local program called The Allegheny Front, which does a great job covering Pennsylvania's environmental news. I try to keep up on the progress of the Inflation Reduction Act; it really is a game changer for the environment. I'm learning about it so that I can be a resource to friends, family, neighbors. Specifically, RewiringAmerica.org is a fantastic resource. They recently got Stacey Abrams as senior council — so great! Of course, EcoLit books is an amazing place to keep abreast of new works in environmental writing. I also have to mention the publisher of my story, GaiaLit, a wonderful journal founded and run by a group of seriously dedicated young people using art to advocate for the planet. Truly heartening and inspiring, and I hope that everyone reading this will give them a look.
What is your favorite environmental book and/or author?
I learned so much from The Clan of the Cave Bear/Earth's Children's series. It's one of those "feels like coming home" stories for me. I re-read the first two books in the series every few years. I love how the Clan lived with and were taught by the Earth – our Neanderthal ancestors still have a thing or two to teach us.
What are you working on now?
I'm just finishing up another piece of speculative fiction. Unlike Two Degrees, it's set not in the future but a little bit in the past. I don't want to talk about its "what if" because it's not done and not out there yet. But I can say that it's lighter in tone, while still examining some rather chilly aspects of our society and our world. My writing will always reflect a reverence for the planet, but it's not always a central theme. I have plans down the road for a children's chapter book that will be a deep dive into the animal kingdom, but I have a lot of reading and research to do before I start that. Animal Dialogues, Chasing Doctor Dolittle, and James Hilllman's Dream Animals are just some of the books on my shelf waiting for me to crack them open for this project.
Check out Kath's recent writing here:
https://gaialit.weebly.com/issue-two-2021-kath-donnelly.html