We are delighted to announce that Athena E. Copenhaver is the winner of the 2019 Siskiyou Prize for New Environmental Literature, for her novel MY DAYS OF DARK GREEN EUPHORIA. 
The award's final judge, Carol J. Adams (author of The Sexual Politics of Meat) writes: "Awareness of ecocide, environmental devastation, and animal suffering might not seem the likely content for a madcap adventure. That was before MY DAYS OF DARK GREEN EUPHORIA. After the novel's end, the hero lingers in my consciousness, a provocative and delightful presence wiggling her finger at me: 'See, this is what it feels like.'"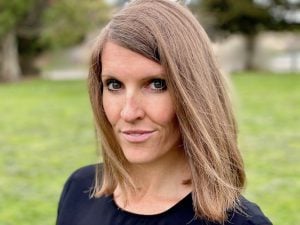 Athena E. Copenhaver is a writer, editor, science communicator, and certified climate interpreter currently earning her keep in the nonprofit sector. She has ghostwritten book chapters about cities plagued by factory farming, air pollution, and automobile traffic, and she has written about migrating white sharks, threatened sea otters, and depleted Pacific bluefin tuna. In recent years, she's been exploring how best to contribute to the global transition toward compassion and justice for all people, animals, and the living world. She holds degrees in English and environmental studies from Santa Clara University, and in 2009, she earned her master of art degree in culture and modernity from the University of East Anglia in England. Born in Seattle, Athena has lived in Carmel, California, for most of her life.
Athena will receive a two-week residency at The Sitka Center for Art and Ecology and a $1,000 cash prize from Ashland Creek Press.
The prize finalists are the novels HER NAME WAS FRIDAY by Nadja Lubiw-Hazard and QUIET MAN by Angela Kaufman, and the semi-finalists are the novels WAITING FOR THE NIGHT SONG) by Julie Dalton and AMANDA THE TEEN ACTIVIST by Catherine Kelaher, as well as MORALITY AND THE ENVIRONMENTAL CRISIS by Roger Gottlieb.
The Siskiyou Prize is named for the Klamath-Siskiyou region of northern California and southern Oregon, one of the most diverse eco-regions in the world. The award is held biennially and is open to full-length published and unpublished books, including novels, memoirs, short story collections, and essay collections.
Congratulations to all — and thanks to every writer who submitted, whose stellar works made this year's prize more competitive than ever. Be safe and well!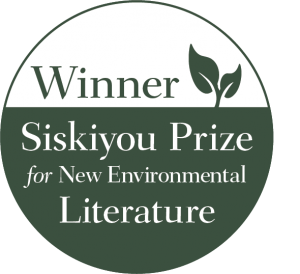 Midge Raymond is a co-founder of Ashland Creek Press. She is the author of the novel My Last Continent and the award-winning short story collection Forgetting English. Her suspense novel, DEVILS ISLAND, co-authored with John Yunker, is forthcoming from Oceanview Publishing in 2024.