As Arctic sea ice melts, what, if any, responsibility do humans have for the animals whose very existence is threatened? It's a question worth considering as temperatures rise and sea ice declines, a situation brought to light, once again, in the latest report from the UN's Intergovernmental Panel on Climate Change. It's also the question that drives the action in Muri, a captivating short story by author Ashley Shelby.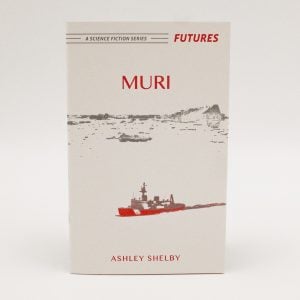 Muri is a reimagining of Herman Melville's Benito Cereno, a novella about a slave revolt onboard a Spanish slave ship. Melville's "underappreciated masterpiece," Shelby says in a piece for Lit Hub, "had something to say to me about the injustice of climate change."
In Shelby's telling, the captain of the Precision — "an optimally manned polar class 2 icebreaker" — has been charged with relocating the last remaining pod of Arctic polar bears from Iqaluit, in the Canadian Arctic, to the Weddell Sea on Antarctica's northwest coast. The relocation project, part of a secret intergovernmental program, is government's most recent effort to save the lives of the bears whose numbers are dwindling in a post-climate change world.
The mission, however, is not without controversy, or danger.
The captain knows that sailors on previous runs returned with accounts of talking polar bears and bears ably performing shipboard duties. That those accounts were dismissed as lunacy. That cell phones were now prohibited onboard ships and a social media clampdown put in effect. And that the crew of one ship, after recounting their encounters with the bears, was dispatched on a classified assignment, never to be seen again. Knowing all this, the captain vows "not to become one of the lunatics, the fatwood that would spark a conflagration."
But just three days into the voyage, it becomes clear that the dismissed accounts were not the hallucinations of addled minds. For that is when the captain meets Muri, "undersized and thin," a bear in full command of the others, and discovers the mutilated bodies of several of his crewmembers.
To give away more would be a disservice to a work that is at once timely and timeless, hard-hitting, and lyrically powerful. Shelby's climate fiction, which includes the novel South Pole Station (which I reviewed for Eco Lit Books), is a clarion call urging us all to do more to address the havoc that climate change has wrought and will continue to wreak upon the planet.
***
Muri is one in a series of stories published by Radix Media that explores "critical contemporary issues in an imagined future."
***
Reading Muri reminded me of a book of short stories I reviewed back in 2016: Only the Animals by Ceridwen Dovey. If you haven't picked it up, I highly recommend it.