Kya Clark, the protagonist in Delia Owens' debut novel, Where the Crawdads Sing, knows little of the world beyond the remote sliver of North Carolina coastal marsh she calls home. Abandoned by her family. Shunned by her community. Kya's is a near solitary existence, her closest companions the gulls that, like Kya, inhabit the marshland.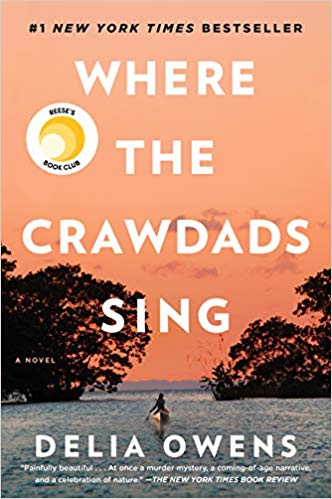 When we meet Kya in 1952, she is six-years-old. Her mother, broken by her husband's alcohol-fueled rage, has left home, deserting her five children. Within weeks Kya's siblings, older, also victims, flee, too, leaving Kya to care for their abusive father and the family home—an isolated shack miles from the nearest town. When Kya's father disappears, Kya is left to fend for herself. That means living off the land and rarely venturing into tiny Barkley Cove, where she is scorned by residents who call her "Marsh Girl" and "Swamp Trash."
Thus, Owens lays the foundation for a heartbreaking story that is part coming-of-age drama, part page-turning murder mystery.
The whodunnit surrounds the death of Chase Andrews, the former high school quarterback and married playboy whose body is found in the swamp on the outskirts of town. When the search for clues yields nothing more than a missing shell necklace, suspicion falls on Kya. She and Chase had been unlikely lovers; the necklace, her gift to him.
The plot in Where the Crawdads Sing twists and turns, sometimes predictably, sometimes surprisingly. But the novel's resonance comes from Owens' detail-rich descriptions of the marsh and her depictions of Kya's relationship to it and reverence for it. Owens' years as a wildlife scientist and award-winning nature writer infuse every scene.
It is from the marsh that Kya gleans many of life's lessons and through which she studies life's cycles. Absent a strong human connection, save for a friendship with an African-American couple that befriends her, it is the marsh that most informs Kya's understanding of humanity—of males, females, mating, motherhood. She collects feathers, shells, grasses, flowers, specimens of all kinds. She keeps a journal, recording the ebb and flow of the tide, of currents, of animal life. She devours zoology, biology, ecology textbooks given to her by a local boy who teaches her to read. Through it all, she seeks to understand perhaps the most perplexing nature of all—human nature:
"Kya dropped the journal on her lap, her mind drifting with the clouds. Some female insects eat their mates, overstressed mammal mothers abandon their young, many males design risky or shifty ways to outsperm their competitors. Nothing seemed too indecorous as long as the tick and the tock of life carried on. She knew this was not a dark side to Nature, just inventive ways to endure against all odds. Surely for humans there was more."
It came as little surprise to me that Where the Crawdads Sing will, in the not-too-distant future, be movie theater fare as there is a cinematic sensibility to it. Indeed, Reese Witherspoon's production company picked up the novel after the actress touted it as a Reese's Book Club pick. But don't wait for the film; read the book. No disrespect to Reese Witherspoon, but books are usually better.