When I read a New York Times story about a New York City neighborhood grappling with a rare animal-borne disease that killed one resident and left at least two others seriously ill, it was, for me, a tragic case of life imitating art. You see, I'd recently finished Neil Abramson's Just Life, a fast-paced fictional tale in which a mysterious and deadly zoonotic disease is spreading through a neighborhood on Manhattan's Upper West Side. In the Times' story, medical officials concluded the disease—leptospirosis—was being spread by rats. In the novel, Abramson challenges readers by asking this: What if an animal-borne disease isn't transmitted by rats or squirrels or birds or raccoons? What if the carrier is the family dog?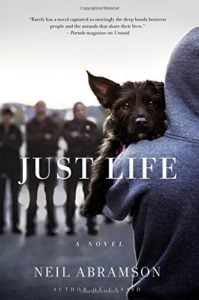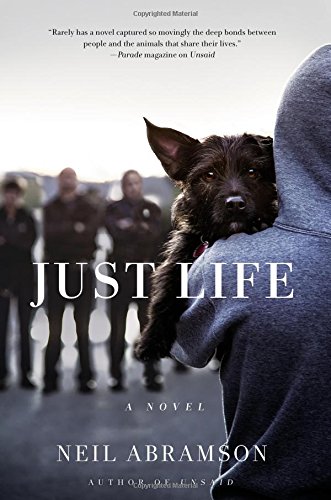 Dogs are the whole of veterinarian Samantha Lewis's life. Her mother is dead, she's estranged from her father, and she has little time for friends, lovers, or her shrink, whose diagnosis—that Sam has undealt-with-anger issues—she terms a "load of crap." Sam devotes all her energy to running her New York City shelter for abandoned and abused dogs. It's thankless work that keeps her questioning the humanity of her fellow humans, keeps "her expecting the people out there to care and being disappointed when they didn't, of the flow of the unwanted and the rejected, of all the goddamn cages[.]"
Now the city is threatening to shut down Sam's shelter—whether or not she can find homes for her dogs. And she doesn't know why.
It's during Sam's campaign to save the shelter that an unidentified virus begins taking the lives of children in Riverside, the Manhattan neighborhood in which Sam's shelter is located. When tests point to dogs as carriers of the deadly virus, New York's politically-ambitious governor orders the NYPD and the National Guard to quarantine the neighborhood. Sam fears the quarantine is just the beginning. She knows that government-imposed responses to zoonotic-based diseases always follow the same trajectory: Quarantine. Cull. Kill.
Sam's mission is now not only to save her dogs, but all the dogs in Riverside, and to uncover what's making the local dogs sick. Sam gets help from a motley crew of fellow dog lovers, all of whom, like Sam and her shelter dogs, are seeking sanctuary from their own troubled pasts. There's the local police officer mourning the tragic death of his K-9 partner, the homeless teen emancipated from the city's foster-care system, the elderly priest fighting the onset of dementia, and the psychologist whose drug addiction ended her career.
While Just Life offers readers a page-turner of a plot, the novel's strength lies in Abramson's depictions of the human-canine relationship at its most beautiful and enduring, and also at its most ugly—in the abuse and abandonment of hundreds of thousands of dogs each year, in their euthanization in crowded shelters, and in their callous treatment as subjects in research experiments.
It's through mining this ugliness that Abramson brings forth the novel's heartfelt message: that too often "…we refuse to acknowledge—[humans and animals] are all the same in the most material ways; we are all just life."