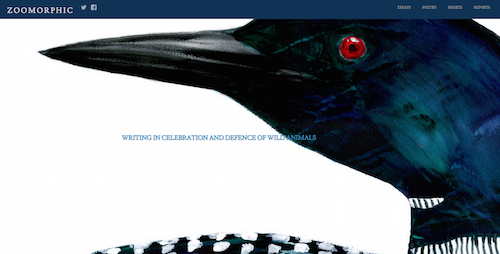 It's always exciting to see a new literary journal launch with a focus on environment writing.
So please welcome Zoomorphic, a new online journal founded by James Roberts and Susan Richardson and "dedicated to writing that deepens our connection with wildlife and the more-than-human world."
I recently conducted a brief Q&A to learn a bit more.
Here we go…
Tell us a bit about Zoomorphic and how it came to be.
Susan and I had both been involved with the Dark Mountain Project, a creative community that shared our own environmental concerns. Susan has been writing about animals for a long time and has worked with many organisations such as WWF and Friends of the Earth. We are both deeply concerned about the level and rapidity of biodiversity loss and wanted to curate a space for a community of practice where writers and artists could create content that both celebrates and defends wild animals.
What types of writing are you looking for?
All types, as various as possible. Creative nonfiction, fiction, poetry, essays. What we're mostly looking for is writing that is accutely observed, that communicates clearly the author's passion for the subject. We also want to work with conservationists and scientists and help them produce stories that can be enjoyed by non-scientific readers. What we don't want to publish is stories that use animals as metaphors for people.
Tell us a bit about your background and writing.
I have been involved in a very wide range of literary and creative projects, starting out writing and producing plays, working on lots of multimedia projects commercially while also publishing poetry and essays in literary journals in the UK. I am a professional digital designer so I'm also responsible for the visual side of Zoomorphic.
What writers inspire you?
I'll stick to living writers: The poet W.S. Merwin, whose work has been rooted in the earth for decades. He has managed to build a life around his practice that is utterly authentic. For me, he is the finest poet writing. In fiction, Cormac McCarthy, for much the same reasons. I agree with George Monbiot that The Road is the most powerful piece of environmental literature written for years. And I must mention Alice Oswald, who is a magician.
What advice do you have for writers of environmental prose?
My advice is that there has never been a better and a more urgent time for writing about the environment. We need many varied voices from all places and all backgrounds. Most of all, we need writing that is rooted in and that passionately defends the author's own "square mile."
PS: Here is our growing list of literary outlets for environmental writers.