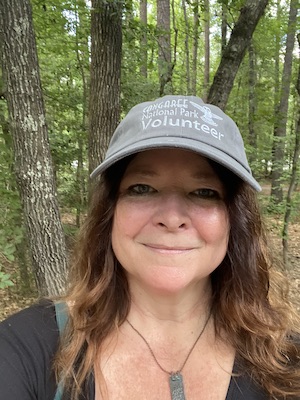 Cassie Premo Steele is the author of Earth Joy Writing: Creating Harmony through Journaling and Nature, which was published by Ashland Creek Press in 2015. Since then, Cassie published two books of poetry: Beautiful Waters recounts her honeymoon in Oregon with her wife, and Tongues in Trees is a book of collected and new poems. She also published a new novel, The ReSisters, which features art by Native artist, Amy Alley.
We recently learned that she has a poem forthcoming in the anthology, Plant People: An Anthology of Environmental Artists, which was one of the publication opportunities featured at EcoLit Books, so we decided to reach to catch up with her.
Can you begin by telling us about your poem?
The poem is called "Love Letter to Earth" and it touches on moments in my life from childhood through adulthood when the earth herself has healed, spoken, soothed and taught me. 
I'm really grateful for the Literary Outlets for Environmental Writing at EcoLit Books; I turn to it often when looking for publications that will be a good fit for my ecofeminist poetry and essays.
In addition to individual poetry and essays, are you working on a larger project now?
I recently finished a book about post-Covid, poetry, and collective trauma. My wife and I had Covid back in March of 2020, and in June of last year, I started developing strange, and chronic, symptoms that landed me in the Emergency Room three times and a stay in the hospital once — all of which ended up leaving me unheard and unhealed.
It wasn't until I made a change in mindset to connect my post-Covid to other forms of collective trauma — particularly violence against the earth — and the role that poetry plays in witnessing and healing that my body started to shift. 
Specifically, my wife and I went completely vegan, I started walking after every meal, and I worked very hard to regain my strength enough to be able to take long hikes in state parks again. And of course, writing accompanied me with every step.
Would you like to share an excerpt?
Like all trauma does, the time is divided between before and after. We are in the middle of it. And there is never really any after.

It is a revealing of the ground of being on which we stand — taken for granted and taken for solid —now showing herself to be constantly in motion and moving without an easy plan.

It is comforting but false to think there is a reason and that something bigger can see over everything and has us in its control.

That is not to say that there isn't something larger but that it is, quite literally now, in our own hands.

Each moment we are making choices that will affect our own lives and the lives of everyone alive with us right now, and that includes the earth and trees and birds and life itself.

We must resist the urge to blame or use anger at one another. These are convenient attempts to push away the pain. Sometimes, in certain circumstances, they can serve as teachers to strengthen us, create the boundaries that have been invaded, and give us the courage to stand up and use our voices.

But they have been for too long the only acceptable emotion, especially in times of stress and loss.

When we sit with the truth of the deep uncertainty in which we all live, have been living, and always will live as humans on this planet, and the deeper truth that the only certainty is death, then it is understandable that waves of emotions will come up and demand to be heard and welcomed.
Are there environmental authors that inspire you?
I've been deeply influenced by the poets Audre Lorde and Joy Harjo. Audre survived breast cancer for 14 years and her writings chronicle the connection between her illness and other forms of racial, social, and environmental injustices. Joy is the current Poet Laureate of the United States, and in her poems, the earth is a living, breathing being who teaches us how to survive with our spirits intact, even when they're wounded.
What is your favorite outlet for environmental news?
I'm a huge fan of Science Friday on NPR. For several years now, I've designated Fridays and self-care days. This is when I see health care providers or get massages or go for long hikes or simply take a nice nap — and in the afternoons, I settle in to listen to Science Friday and work on a knitting or crochet project with my dog, Lenny Bruce, sitting next to me. I love the range of researchers they interview and the way they discuss everything from stars and spiders to birds and botany.
Anything else you'd like to share with our readers?
I volunteer at Congaree National Park, which is less than an hour away from my home in South Carolina. I teach seasonal writing workshops there that are based on the lessons in Earth Joy Writing, which is also on sale in the visitor's center. I love meeting people from all over the world during these workshops and giving them the opportunity to write in the company of the huge bald cypress, tupelo, oak, maple, holly, and loblolly pines in the largest intact expanse of old growth bottomland hardwood forest remaining in the southeastern United States. The next workshop is on Saturday, September 18th.
And for those who aren't near South Carolina, I teach a weekly live class on Insight Timer called "Writing for Resilience," where I lead people through journaling exercises that help them find ways to be both softer and stronger as they face the deep truths in their lives.
More information can be found at www.earthjoywriting.com and www.cassiepremosteele.com