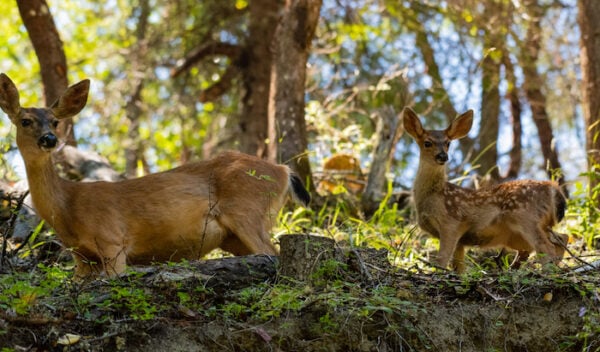 Summer in Ashland, Oregon, means fawns following their mothers through the streets of our small town.
The local deer are, sadly, a contentious issue. Many residents resent their appetites for rose bushes and other flora. Others have accused deer of assault (typically a mother deer's instinct to protect her fawn).
But a major reason we moved here years ago was for the deer (and other wildlife). Ashland is, after all, situated next door to a national forest; we're in their yard — they are not in ours.
A while back, the City of Ashland called for a "deer summit," with the implicit goal of planning for their demise. A huge number of animal advocates showed up to the summit and spoke up for the deer, and, for now, the deer are safe.
But this issue is far from over, and far from unique to Ashland.
With that in mind, I wanted to share an essay from our collection Writing for Animals. This essay includes a letter-writing campaign we used to protect the deer — it received a wonderful response from the community, and I encourage anyone who is fighting a similar battle to freely reuse it to protect other animals who need human voices to help them.
You can download the PDF of the essay here (or click on the book below):
You can also purchase the book here (or from any local bookseller by request).
Here's to the deer. And to all animals…