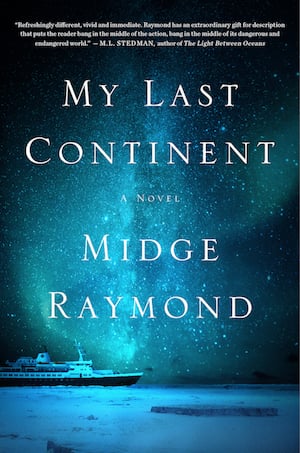 I'm happy to announce the publication of contributor Midge Raymond's debut novel My Last Continent (Scribner).
This novel wears the "eco-fiction" label quite well. The novel focuses on penguin researchers in Antarctica and their struggles to protect creatures who are at the mercy of changing climate and increased tourism.
The book also has a plot element that has long been a concern from those who work in Antarctica: A tourist vessel hits ice and begins to sink, with rescuers more than half a day away.
Here are a few reviews My Last Continent has received so far:
"Atmospheric and adventurous…the story and vivid writing will keep readers glued to the pages." — Library Journal

"An atmospheric tale of love discovered, and losses endured, in Antarctica. … The unpredictability of the splendors and terrors of life at the southern pole creates a backdrop of foreboding entirely appropriate for the story's cinematic resolution [and] the authentic rendering of the setting distinguishes Raymond's novel from other stories of love in perilous times and places." —Kirkus Reviews

"The desolate landscape of Antarctica provides an ideal backdrop to the ever-shifting relationship of Deb and Keller…Midge Raymond's debut novel is a sensitive exploration of how even the smallest action can ripple through an ecosystem—seemingly impenetrable, but as fragile as the human heart." —Minneapolis Star-Tribune

"My Last Continent is an original and entirely authentic love story. It is a love triangle with Antarctica as the third party, literally and metaphorically. Midge Raymond takes us, physically and emotionally, into an unfamiliar world—a world that has much to teach us. She deftly interweaves a compelling drama with a gentle and subtle love story. It's a mature novel, one that recognizes that love is seldom simple or exclusive, and that the things that bring us together can also keep us apart." —Graeme Simsion, bestselling author of The Rosie Project and The Rosie Effect

"There is a romance about faraway, desperate places, about isolation, about ice and snow. Add penguins and you have Midge Raymond's elegant My Last Continent, a love story about the Antarctic and the creatures, humans included, who are at home there. Half adventure, half elegy, and wholly recommended." — Karen Joy Fowler, author of We Are All Completely Beside Ourselves

"My Last Continent feels refreshingly different, vivid and immediate. Midge Raymond has an extraordinary gift for description that puts the reader bang in the middle of the action, bang in the middle of its dangerous and endangered world. Her clean, spare prose pulls us irresistibly into the story and the wider issues it raises. She is clearly a writer in command of her craft." —M.L. Stedman, New York Times bestselling author of The Light Between Oceans
To learn more visit www.midgeraymond.com. And check out her events page to see if she may be appearing in a city near you.