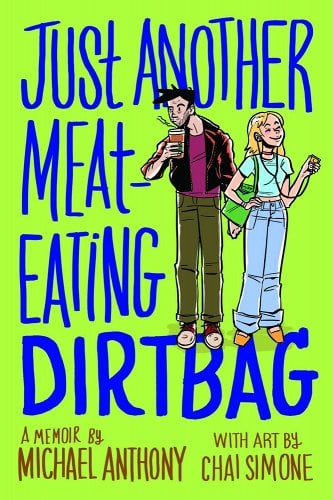 Boy meets girl.
Girl goes veg.
Boy goes off the deep end.
And so begins this heartfelt, occasionally hilarious and generally brilliant graphic novel about one man's struggle to resist his girlfriend's vegetarian (and ultimately vegan) calling.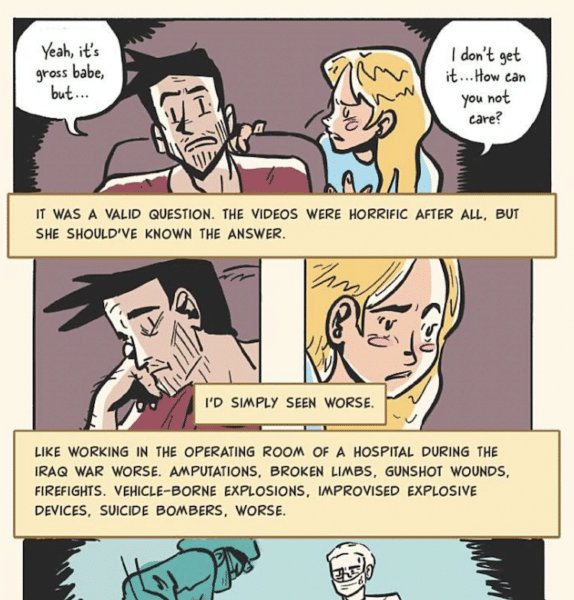 The protagonist, Michael, is an army vet who returns to the US and falls for a girl he envisions spending the rest of his life with, until she embraces the animal rights cause and expects him to do the same. Needless to say, this self-proclaimed dirtbag is not going to go vegetarian without a fight. And so we follow him along as he conspires a way to pull her back to his side, but not without discovering the many horrors of factory farming and animal mistreatment — as well as Michael's experiences in war and the many horrors he witnessed.
Anyone who has been in a "mixed relationship" will surely identify with this book. It is these interpersonal tensions that inspired my play Sanctuary, about a couple torn apart over a similar stalemate. When one person goes vegan and other does not, you have an opportunity to argue over three meals a day. Food is what pulls people together but, for some, food is what pushes them apart.
Because, in the end, meat is not just what you eat, it's who you are, who you are expected to be. And so many relationships are not built for change, but for permanence, an implicit agreement that both parties will remain the same. If only we can update marriage vows to include through sickness and health, through vegetarianism and veganism…
Author Michael Anthony has done a marvelous job using the narrative of a romance on edge to convey so many insights about animal rights, veganism and how the strongest men are those who stand up for animals. And the artwork by Chai Simone is a joy — for anyone hoping to convert their significant other to a more compassion lifestyle, this book is a must read.
Just Another Meat-Eating Dirtbag
A Memoir by Michael Anthony
Art by Chai SImone
Street Noise Books