Olga Tokarczuk's Drive Your Plow Over the Bones of the Dead resists easy categorization. It is a dark comedy, murder mystery, treatise on animal rights, and tribute to English poet William Blake. It is also a feminist portrait of a woman taking stock of the social and cultural values that have shaped all that she is and all she's become.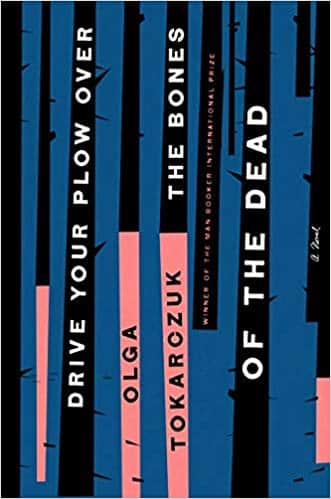 Tokarczuk's protagonist and narrator is Janina Duszejko, a quirky, educated woman with a passion for animals. In a memorable first sentence that sets the tone for the story and reveals Janina's state of herself, she tells readers, "I am already at an age and additionally in a state where I must always wash my feet thoroughly before bed, in the event of having to be removed by an ambulance in the Night."
In the course of the novel, we learn that Janina was once a bridge engineer who had to give up that work when chronic "Ailments"—never clearly defined—made building bridges impossible. She moved to a tiny, remote village on the Polish-Czech border that bustles during the summer and empties during the frigid, snow-filled winters. Climate change, she tells us, has made "everything warmer, but not our Plateau… the snow is heavier and stays put for longer."
Janina, along with a few hearty souls, lives in the village year-round. She teaches English at a small Catholic school, oversees the properties of several homeowners who spend winters in Warsaw, translates the poetry of William Blake, and calculates horoscopes. She foregoes referring to people by their given names—"they're so divorced from the Person, and so banal that they don't remind us of them at all"—preferring monikers that "come to mind of their own accord"; thus, she calls characters Oddball, Big Foot, Dizzy, Good News, and Black Coat. Janina also has a proclivity for capitalizing common nouns. She named her neighbor Oddball because "it reflects his Attributes well."
Janina's neighbor Big Foot is the first person in the village to meet an untimely death, having choked during dinner on a deer bone. To Janina, the death is divine retribution. "He had caught the Deer in a snare, killed her, then butchered, roasted and eaten her body. One Creature had devoured another, in the silence and stillness of the Night. Nobody had protested, no thunderbolt had struck. And yet, Punishment had come upon the devil, though no one's hand had guided death."
When others in the hamlet—all hunters—turn up dead, Janina is sure she knows who is doing the killing. It is the animals, she tells police. Animals taking revenge on those would hunt them—for sport, for rugs, for shoes, for meals. Not surprisingly, Janina is not taken seriously. One officer calls her a "crazy madwoman." Another asks, "Why is it that old women… women of your age are so concerned about animals? Aren't there any people left for them to take care of? Is it because their children have grown up and they don't have anyone to look after anymore, but their instincts prompt them to care for something else?"
A recent New Yorker profile described Tokarczuk as "[a] longtime vegetarian who… loses sleep over the suffering of animals in slaughterhouses and on factory farms." In this, she and Janina are one. Coming upon a boar shot dead by hunters, Janina says, "Sorrow, I felt great sorrow, an endless sense of mourning for every dead Animal. One period of grief is followed by another, so I am in constant mourning. This is my natural state."
What is Janina to do in a society that privileges hunters over the hunted? A society that legalizes the murder of animals, but criminalizes the murder of humans? What are any of us to do? And why are not all sentient beings equal under the law? If they were to be equal, what would justice look like?
Tokarczuk won the Nobel Prize in Literature in 2018. In announcing the award, the committee lauded her "for a narrative imagination that with encyclopedic passion represents the crossing of boundaries as a form of life." Boundaries—limiting and liberating—are at the heart of Drive Your Plow Over the Bones of the Dead.
Originally published in 2009, the English translation was released in 2019 and longlisted for the National Book Award for Translated Literature.