Katy's Song by Alison Reese is a warm, witty vegan love story, perfect for any romance reader as well as a fun read for vegans and those interested in vegan life. Like Armand Chauvel's The Green and the Red, Katy's Song features dual narratives in which the characters are brought together by veganism; unlike The Green and the Red (in which Léa and Mathieu begin on opposite ends of the veg spectrum), protagonists Katy and Jon first meet due to Jon's interest in being vegan.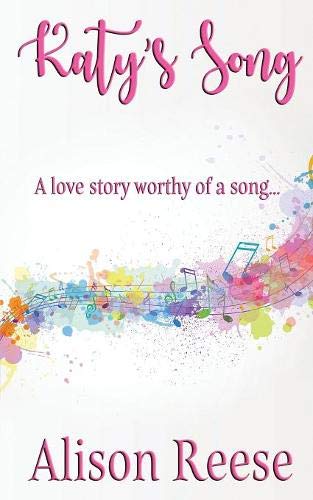 Katy Moore is "on the losing end of thirty" and recently divorced, after her husband fell for a younger woman who is pregnant with his first child, "something Katy was physically incapable of providing." Katy is a diehard romantic; she lives in old farmhouse and volunteers at Horse Haven Physical Therapy Center, and she's head over heels for her professional ballplayer boyfriend, Greg, whom she met at a Noe Burke concert. She is a devoted vegan but by no means a health nut (her go-to stress relievers are vegan butter and saltine crackers, paired with Virginia Slims and Patrón).
Jon Abbott is the real human behind the rockstar persona of Noe Burke, a 39-year-old musical legend who is, due in large part to recent losses in his life, is feeling the rigors of touring. His girlfriend, Phoebe, is more interested in his celebrity status than Noe himself, telling him, "You're nothing like I expected."
When Jon and Katy meet, it's in an online forum for vegans; neither knows the other's real name, but they have an instant connection. Jon has joined the forum with the hope of turning his life around; Katy, who is struggling to fund her dream of building an educational animal sanctuary, finds solace in helping other vegans learn the lifestyle. After corresponding with Katy online and on the phone, Jon hires her to travel from her home in Fort Worth to Seattle to be his vegan consultant for a week.
Katy is a lovable and accessible vegan protagonist: She loves food, she isn't preachy, and — inevitably — she makes omnivores uncomfortable. In an early scene in the novel, negotiating food at a party with Greg, he "tried to ease her jitters by staying nearby and making inquires as to which dishes were vegan. But that only made her more uncomfortable, because the meat-eaters felt judged, even though her mind didn't work that way."
Jon's first encounter with veganism occurred when he caught a ride with a man named Sam who looked decades younger than his age; Jon glimpsed a vegan cookbook in the car, in which "every recipe appeared more appealing than the last." Sam told Jon that being vegan is "pretty damned hard, and I still struggle every day," but that it was worth it to be rid of eighty extra pounds, high blood pressure, high cholesterol, and Type 2 diabetes. Plus, he said, "My wife thinks I'm hot again."
The novel seamlessly addresses a plethora of vegan issues that will be familiar to vegans and insightful for omnivores, from details like whether alcohol is vegan ("Patrón is vegan … but when it comes to alcohol, it depends on how it's processed") to the inconvenient truths ("we claim to love animals and yet we're about to enjoy these two perfectly prepared steaks") to the transformation that veganism makes possible ("veganism is about connection—to earth, to animals, and to each other. It can change you in ways you never thought possible"). New vegans will love the scenes in which Jon and Katy veganize restaurant options (noting that not all veggie burgers are vegan — "some use egg as a binder" — and making special requests — "we could get the veggie sandwich without pepper jack and pesto mayo"). At the same time, the challenges of the vegan transition loom large for Jon: "Who's going to eat Dick's [burgers] with me?" asks his best childhood friend, Rebecca.
Yet while veganism is vital to the story, the romance and the characters are central, and throughout, Reese keeps ratcheting up the tension — from Rebecca's constant interference in Jon and Katy's budding relationship to the unraveling of Katy's relationship with Greg, added to which are Jon's tragic backstory and reverberations from the losses Katy suffered during her childhood. Despite the novel's more serious notes, woven in are lighter moments of both humor and conflict, including the non-vegan food temptations as Jon transitions to a vegan diet.
Katy's Song will appeal to anyone who loves a heartfelt, against-all-odds romance; for vegans and omnivores alike, it's about finding one's true self and honoring that, from what's on your plate to what's in your heart. The vegan highlights include mouth-watering food references sprinkled throughout (such as "tofu and mushroom scramble served with hash browns and biscuits, burrito with no-fry re-fried beans, sweet coleslaw with apple and pineapple chunks, and air-fryer chickpeas" and "celery stuffed with vegan cream cheese, nut bread with vegan butter, tabouli salad") — and another bonus is a vegan appetizer recipe at the end of the novel.
Midge Raymond is a co-founder of Ashland Creek Press. She is the author of the novel My Last Continent and the award-winning short story collection Forgetting English. Her suspense novel, DEVILS ISLAND, co-authored with John Yunker, is forthcoming from Oceanview Publishing in 2024.