Galápagos at the Crossroads: Pirates, Biologists, Tourists, and Creationists Battle for Darwin's Cradle of Evolution by Carol Ann Bassett should be on the reading list for anyone traveling to the archipelago, whether as a researcher or a tourist. This insightful essay collection, while offering deep dives into some of the islands' flora and fauna, also covers the controversial history and present challenges of the human impact on the Galápagos in ways all visitors should see in order to truly understand this remarkable place.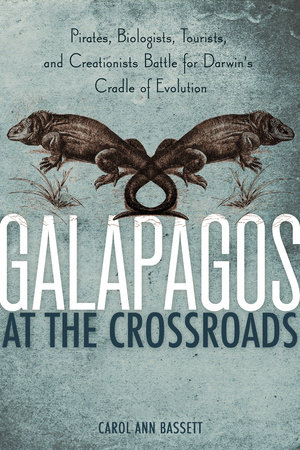 In these seventeen chapters, Bassett writes of her personal experiences in the Galápagos, the first time being 1990. When she returned twenty years later, she witnessed the explosion of tourism as well as the local population, and these effects on the native wildlife were substantial, to say the least.
Most striking about this book is the real vision Bassett gives us of this "paradise." To the casual tourist, the Galápagos Islands are pristine white-sand beaches, turquoise waters, spectacular snorkeling, swimming with friendly sea lions—but beneath that is a startling reality: that of invasive species threatening to decimate native plants and animals, a human population struggling to survive in a changing world, and a political system so corrupt that it threatens to destroy the most unique ecosystem in the world, which desperately needs protecting.
The book begins with background on the islands and grows increasingly interesting through Bassett's interviews and research into conservation efforts—not only what studies are being done but what good work is being undermined by other interests, including the local fishing and tourism industries. Bassett highlights local problems, such as lack of education and healthcare, that contribute to wider issues: children who grow up without an appreciation or understanding of where they live, and local tour guides who do not believe in evolution.
Among my favorite chapters is Bassett's Q&A with Alex Cornelisson, then director of the Sea Shepherd Conservation Society in Galápagos. Sea Shepherd does incredible work worldwide for the oceans and its creatures and has been especially crucial to the Galápagos. Sea Shepherd's work in partnership with Galápagos National Park and the Environmental Police is one of many examples Bassett offers of how it's only through engaging with those who live on the islands that change can happen and be effective. The stories of those working to educate local children and create environmental stewards are truly inspiring.
The book is filled with dramas large and small — from stories of poachers and mafia to the "siblicide" of masked boobies and other fascinating animal mysteries. The essays appear to have been written individually and, when read together, can be repetitive—introducing the same people more than once, repeating facts—but in many cases, underscoring the islands' issues and those who are working for change (or getting in the way) is not a bad thing. The more readers can understand about these islands, the better.
Written with an obvious love for the islands and a sense of urgency about protecting them, Galápagos at the Crossroads shows readers a Galápagos that most tourists will never see but absolutely should. It is only through understanding and truly appreciating this World Heritage Galápagos treasure that it can be preserved.
For more on the Galápagos, check out this short video, Voices of the Galápagos, which showcases the people who live on the Galápagos Islands and highlights their perspectives, goals, and efforts to preserve the place they call home.
Midge Raymond is a co-founder of Ashland Creek Press. She is the author of the novel My Last Continent and the award-winning short story collection Forgetting English. Her suspense novel, DEVILS ISLAND, co-authored with John Yunker, is forthcoming from Oceanview Publishing in 2024.