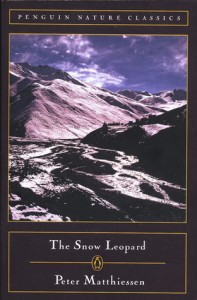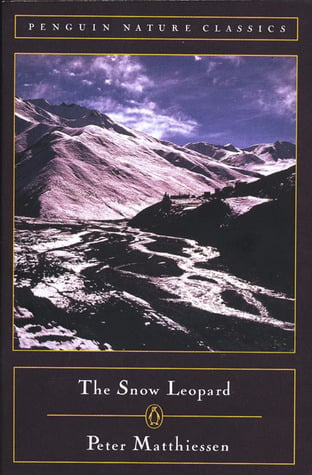 The Snow Leopard (1978), a beautiful true account of a wildlife research trek into the Himalayas, reads like a novel. It's rich with sensory detail — capturing the sights, tastes, smells, sounds and textures of the author's journey as well as his observations and feelings along the way.
"It helps to pay minute attention to details — a shard of rose quartz, a cinnamon fern with spores, a companionable mound of pony dung. When one pays attention to the present, there is great pleasure in awareness of small things…"
The reader travels along with author Peter Matthiessen and biologist George Schaller as they climb into the remote Dolpo region of the Tibetan Plateau to observe the Himalayan Bharal (blue sheep) in rut and solve the evolutionary mystery of the sheep's origins. Matthiessen also hopes to catch a glimpse of the elusive snow leopard. He recounts his journey from Sept. 28 to Dec. 1, 1973 as a series of journal entries.
Although broken up into these short segments, The Snow Leopard does not lend itself well to skimming or reading in snippets, but invites the reader to linger over its passages and makes for an excellent slow read. Matthiessen attentively describes each mountain, moon and monastery and all of the flora and fauna he encounters from wild walnut to emerald butterfly.
Readers of EcoLit will appreciate the inclusion of biological facts and observations as well as insights into the challenges of conservation in Nepal. Notably, Schaller's 1973 expedition helped lead to the establishment of Shey-phoksundo National Park, in part, to preserve snow leopard territory.
In addition, there's an eco-spiritual aspect to the book. As he travels, Matthiessen grieves the loss of his wife and seeks to deepen his Buddhist meditation. This colors his observations and the snow leopard becomes a metaphor for the author's spiritual quest.
"Confronted by the uncouth specter of old age, disease, and death, we are thrown back on the present, on this moment, here, right now, for that is all there is. And surely this is the paradise of children, that they are at rest in the present, like frogs or rabbits."
I enjoyed The Snow Leopard so much that on my second read, I read it day by day from Sept. 28-Dec. 1 (I tracked my journey with the book over at my writer's journal.). Have others read the book this way? It wouldn't surprise me. It's a great way to appreciate the book.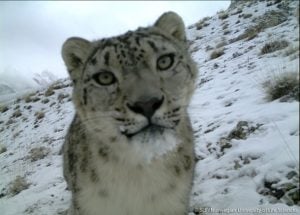 "Nature writing now combines rhapsody with science and connects science with rhapsody, and for that reason it is a very special and nourishing genre," says Edward Hoagland, in his introduction to The Cloud Forest, one of Matthiessen's earlier books.
This is certainly true of The Snow Leopard as well. A 1979 National Book Award Winner, it's nature writing at its best.
What to read next?
This article, "Buddhist Monks And Snow Leopards Become Surprising Allies" by Tia Ghose of LiveScience which quotes George Schaller and Tibet Wild: A Naturalist's Journey on the Roof of the World (2012) by George Schaller.
Inspired by this book?
Visit Panthera, a wild cat conservation organization, panthera.org, (conservationist George Schaller is vice president) and Snow Leopard Trust, an organization working to protect the endangered snow leopard, snowleopard.org.
A reader, writer, and @Utopianista living by the Salish Sea, Shel served in the Peace Corps and earned her MFA in Creative Writing.